Page 10+ The Doggie Bloggie
I want to help find a cure for cancer! My dad had cancer 6 years ago. My family lost 2 goldens to cancer.
A little background about me if this is your first time here: I'm a golden retriever, a professional model/actor, a registered therapy dog and an agility pup. I currently work with a program called Read to the Dogs at the library. When I was evaluated for my therapy work, I was approved to work in 'complex' environments. Because of this, I will also be working with children's oncology, which means I will be visiting children in the hospital who have cancer. My family chose this kind of work for me because of how cancer affected their lives. We want to help make a difference to someone who is going through a very scary time.
According to the American Cancer Society, about 1,638,910 new cancer cases are expected to be diagnosed in 2012. It is the second most common cause of death in the US, exceeded only by heart disease. This means cancer is the cause for nearly 1 of every 4 deaths.
It doesn't just affect people. Cancer affects animals, too.
I am traveling from my home in Portland, Oregon in a little over a week with my dad and my girl to visit California. I will be participating in the Morris Animal Foundation K9 Cancer Walk on Sunday, April 29 in Elk Grove, California. I mentioned I will be walking for YOU -- we've all been affected in some way or another.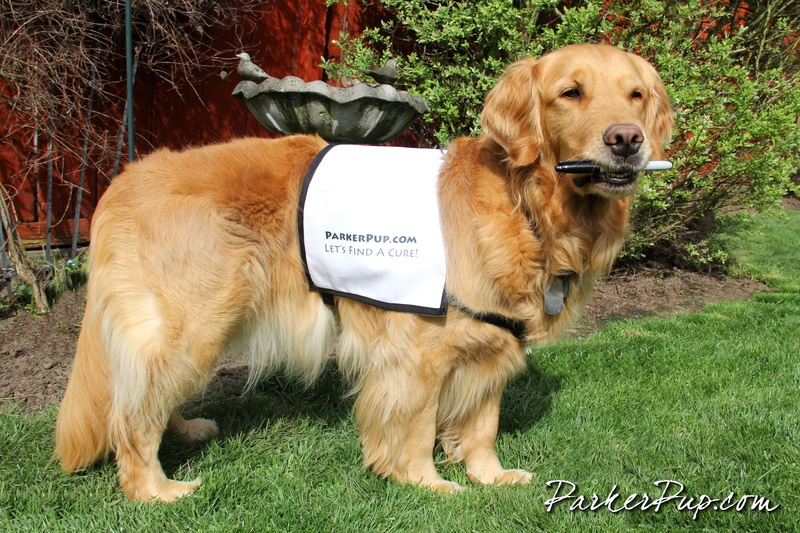 SO... I've got my Sharpie pen and a lot of blank space. Give me the names of who I am walking for! A doggy that's fighting cancer right now, one that fought and lost the battle, one that won. I'm not picky, I'm against cancer of all types -- if you have a 2-legged friend you'd like me to walk for, give me that name as well. If I run out of space, I've got 2 big pockets that I will fill with names.
Will you help me fill my vest? If you have friends who might want me to walk for them, will you share my Facebook page with them?
My cancer campaign will be highlighted on Facebook. I'll be posting photos of my entire trip, and I'm taking all of you with me in spirit. Let's fight cancer!!
IF you would also like to make a donation (not necessary for me to walk for you), I'd highly suggest The Morris Animal Foundation OR the American Cancer Society. The links provided are to my fundraising pages on both sites. If you have a cancer organization you would prefer to donate to, please do. We're hoping if we can strike just a little bit of added awareness, it might generate more who might be willing to help. This would mean more research, and more hope for a cure. Thank you for being a part of that. ♥

Read on to see the status of my vest -- and remember, if it fills up, it doesn't mean I can't walk for someone. Give me a name and I will carry any and ALL additional names in my vest pockets.

4/15/2012 8:30pm: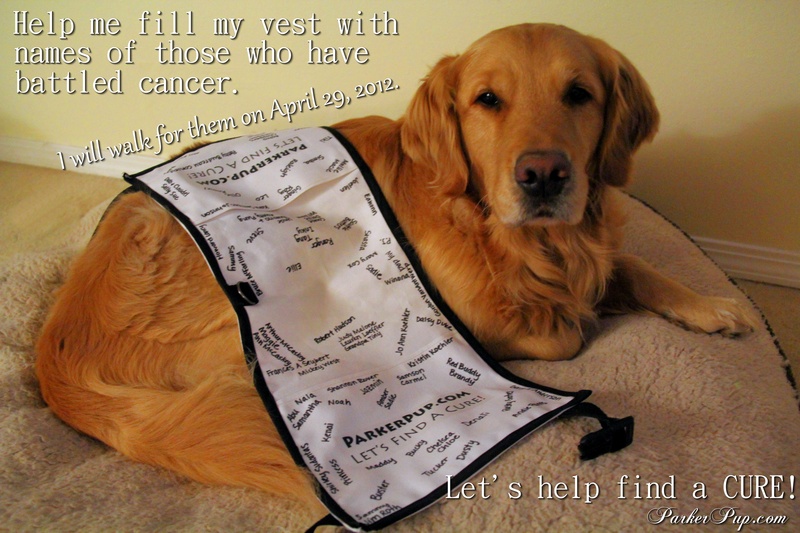 4/16/2012 8:00pm: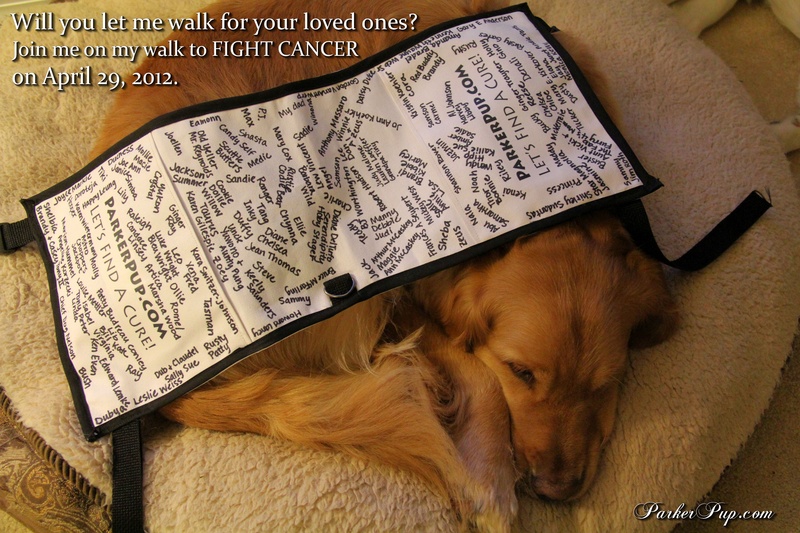 4/17/2012 9:00 pm: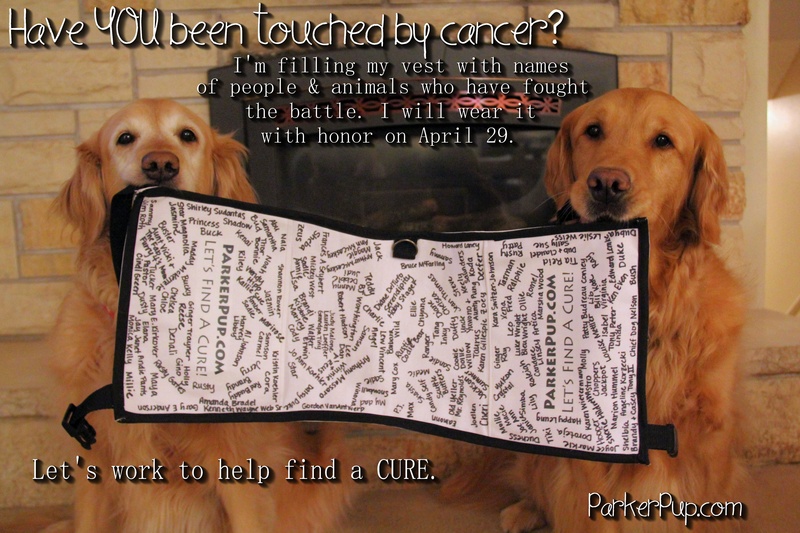 4/18/12 8:00pm: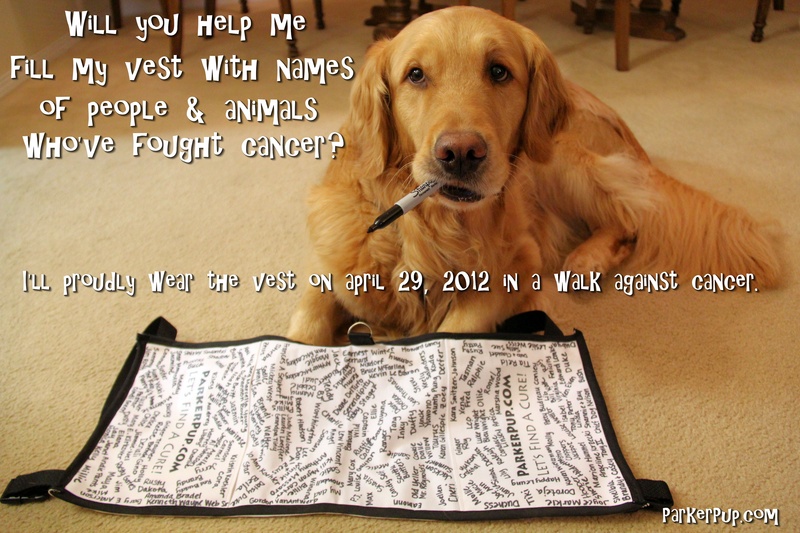 4/19/12 9:00 pm: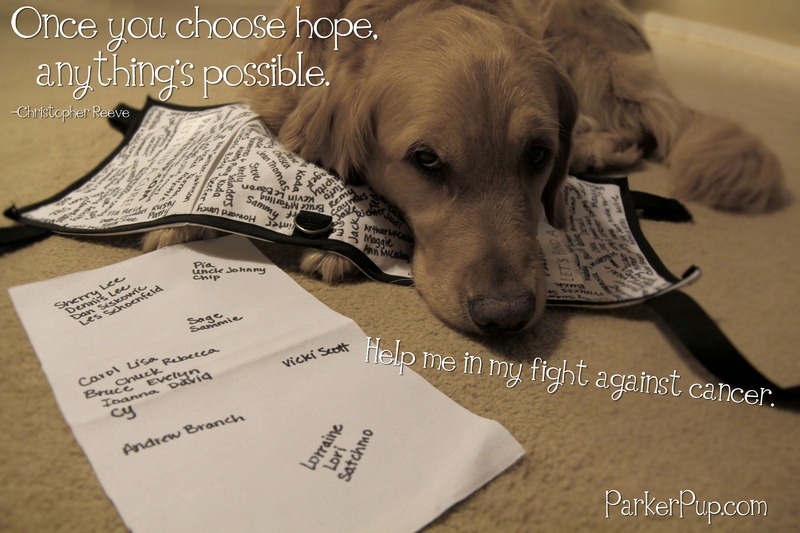 I'll have more detailed photos of the vest up later -- for now, we're starting to fill up pockets. <3 The fabric will have a nice border sewn onto it to match the vest. Still taking names!

Categories: None