Page 10+ The Doggie Bloggie
When Dad said he was taking me to the Oregon State University rally at Pioneer Courthouse Square, I thought, "What's a rally?"
He told me that there would be lots of beavers there. Hmm, OK! That sounds neat! I like fuzzy animals, and beavers are WAY cooler than squirrels (and ducks, too).
We got there and so many people were cheering! I immediately knew THIS was a happenin' place.
Now, here's the deal - I'm used to being put in the spotlight. I thought surely these nice people could use a little, ahem, celebrity atmosphere!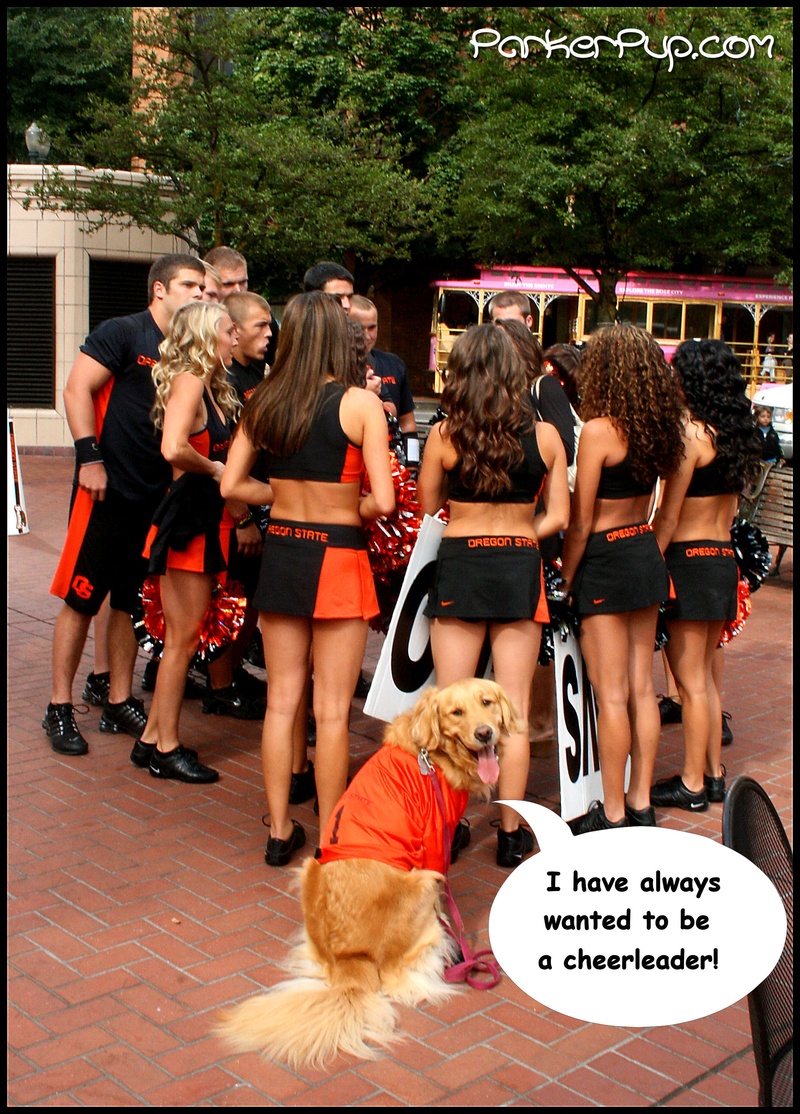 I quietly practiced my best, "Go, Team!" bark before I worked my way into the huddle and waited to see what the directions would be for the next cheer...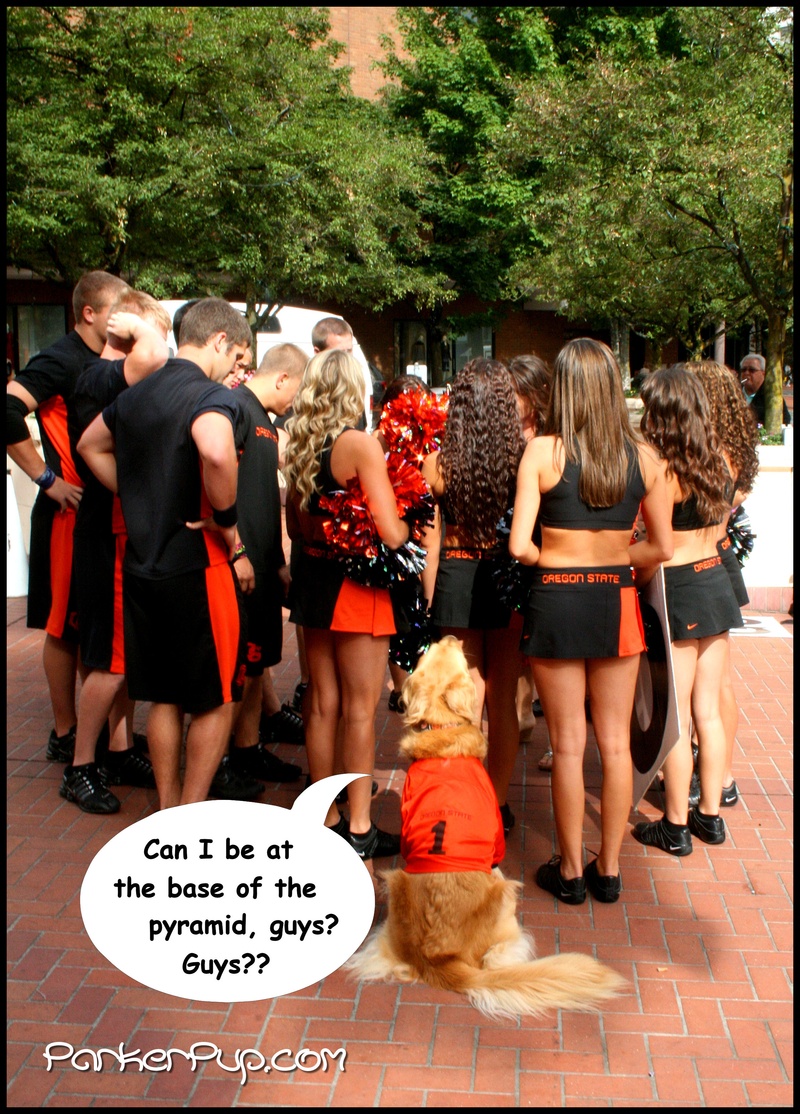 I decided maybe they were kind of busy, so I walked over to where the loud music was coming from. Then a BRILLIANT IDEA HIT ME! I can be in the band!!! I'm awesome on my squeaker toys at home. This band doesn't have any of those. They are missing out on all my musical talents!
The band directer said they needed someone on bells, but they didn't have any openings for squeakie toy players.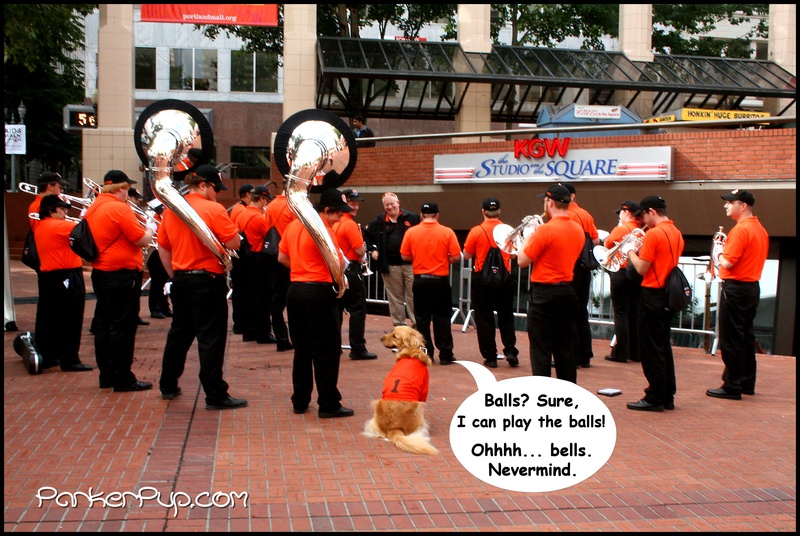 Darn! They didn't need me in the band. I bet band camp is fun. Guess I'll never know. Still, I had a word with the band director in case he changed his mind.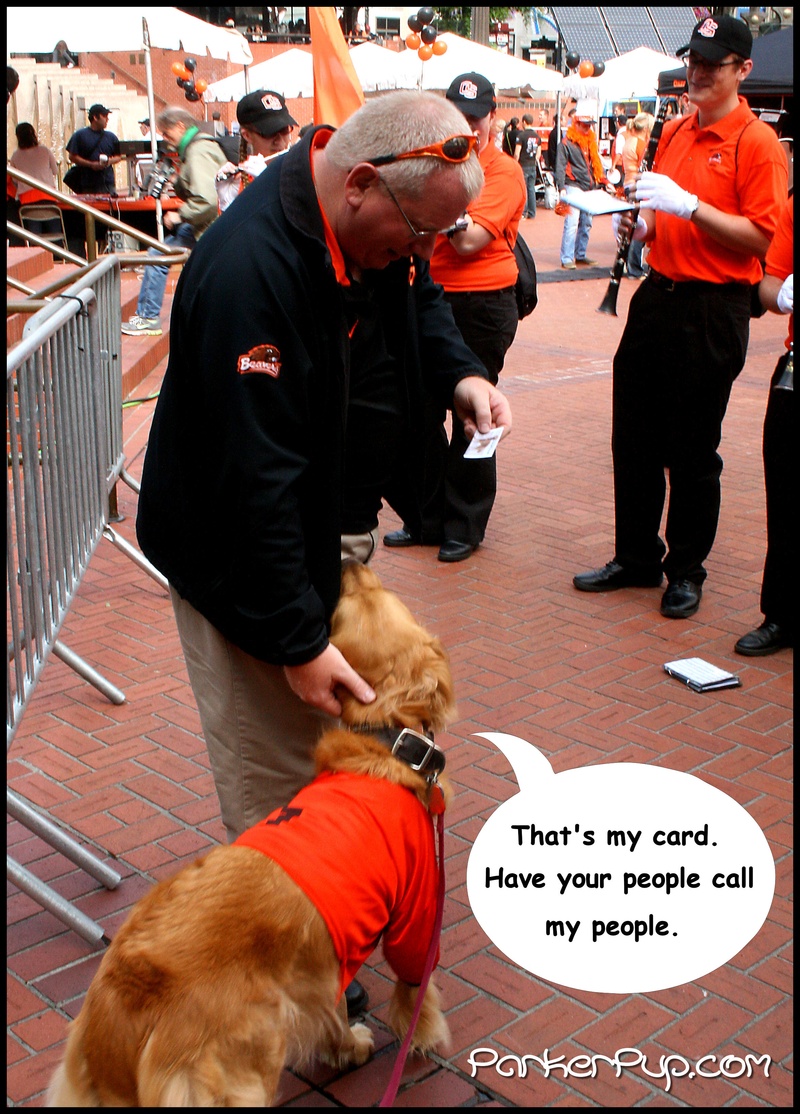 But while I'm here with these cool band dudes, might as well work a little bit of my charm......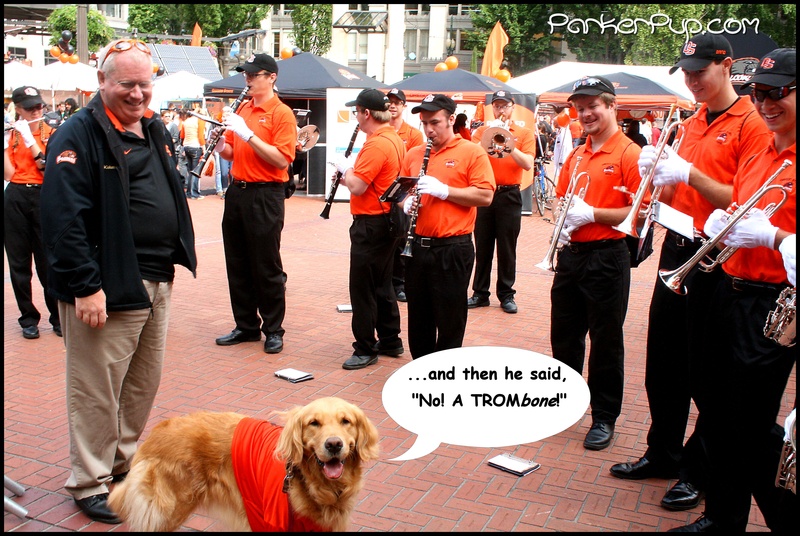 LOL! I love the band.
 But I still have things to do, people to greet.
This booth had some nice people. I'm GREAT at advertising stuff. I can hand out pamphlets and schedules. No prob!!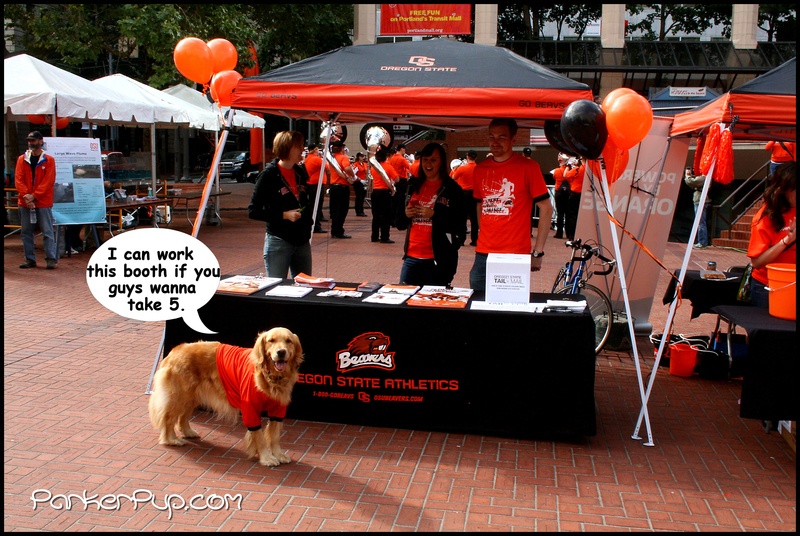 ORRR... this booth might need me to hand out some stuff for them. I'm great at helping, right guys???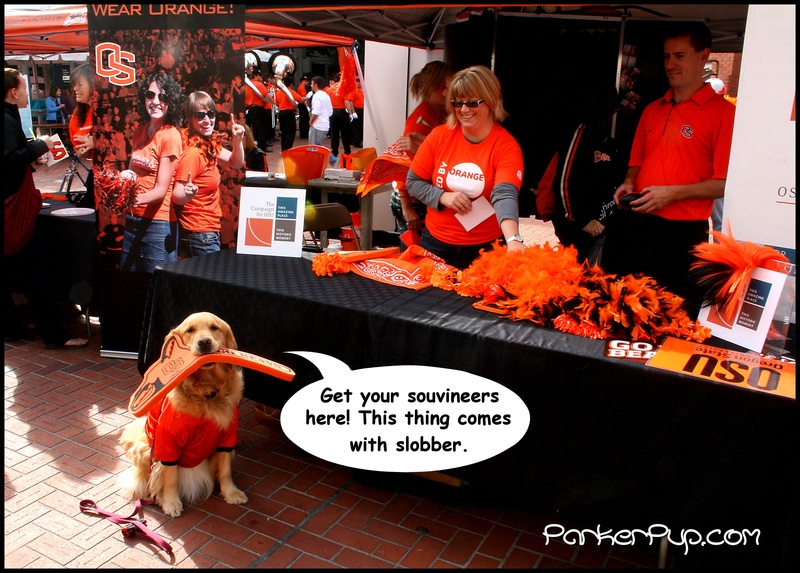 After handing out some orange and black gear to fans, I was STILL thinking about those darn cheerleaders. I went back over to see if they wanted help with their routine, but quickly decided they probably didn't.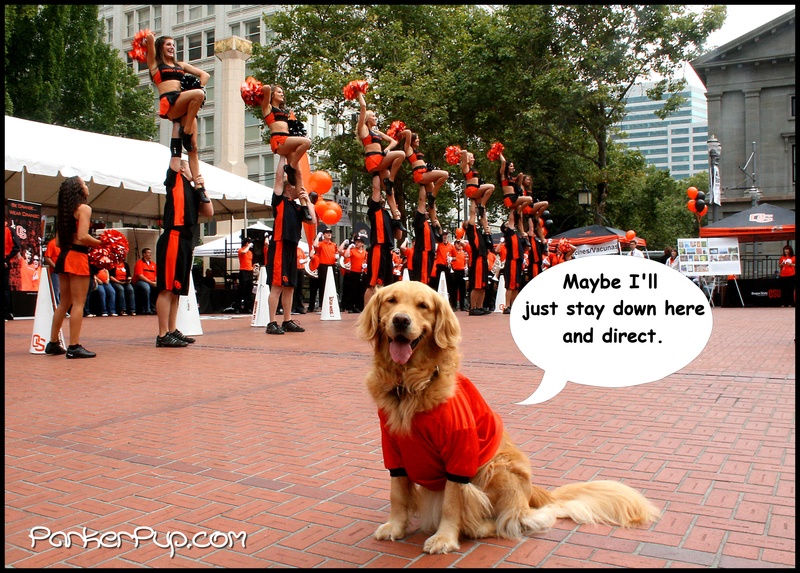 Don't worry, I found some other short cheerleaders who were fond of gravity like myself.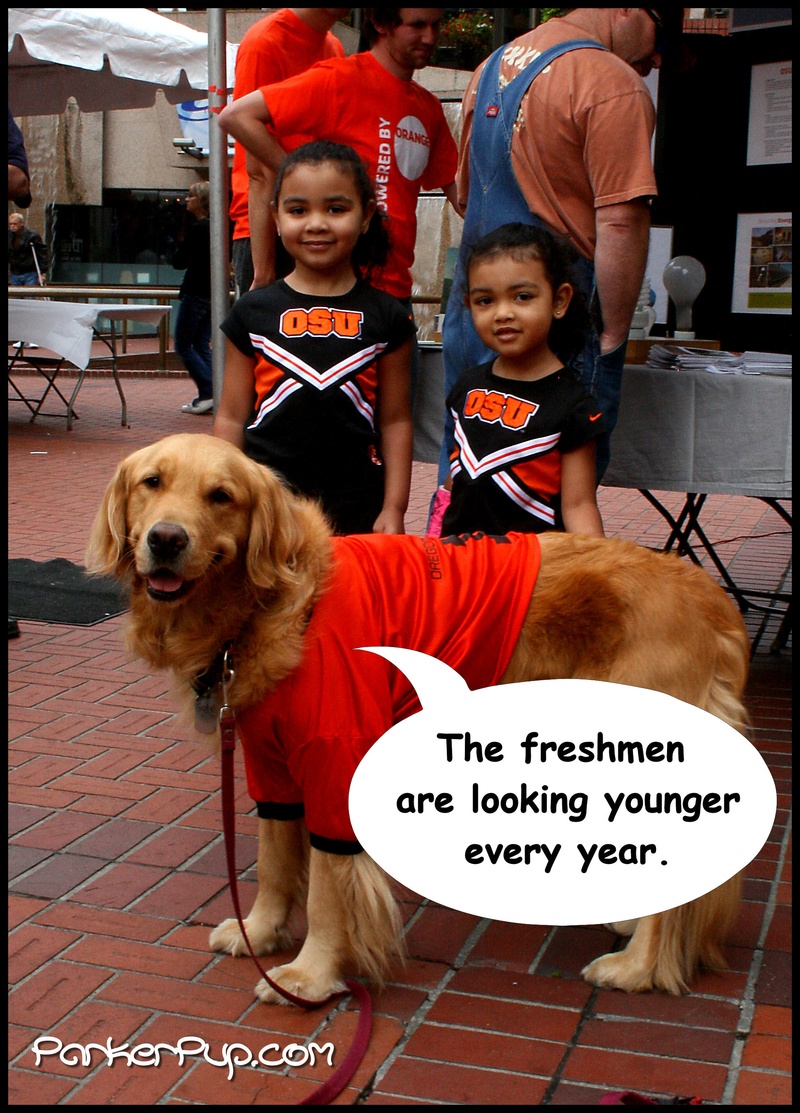 OSU, I decided, has LOTS of cool people. Football players, band members, cheerleaders, and someone else who I think I would get along GREAT with!!!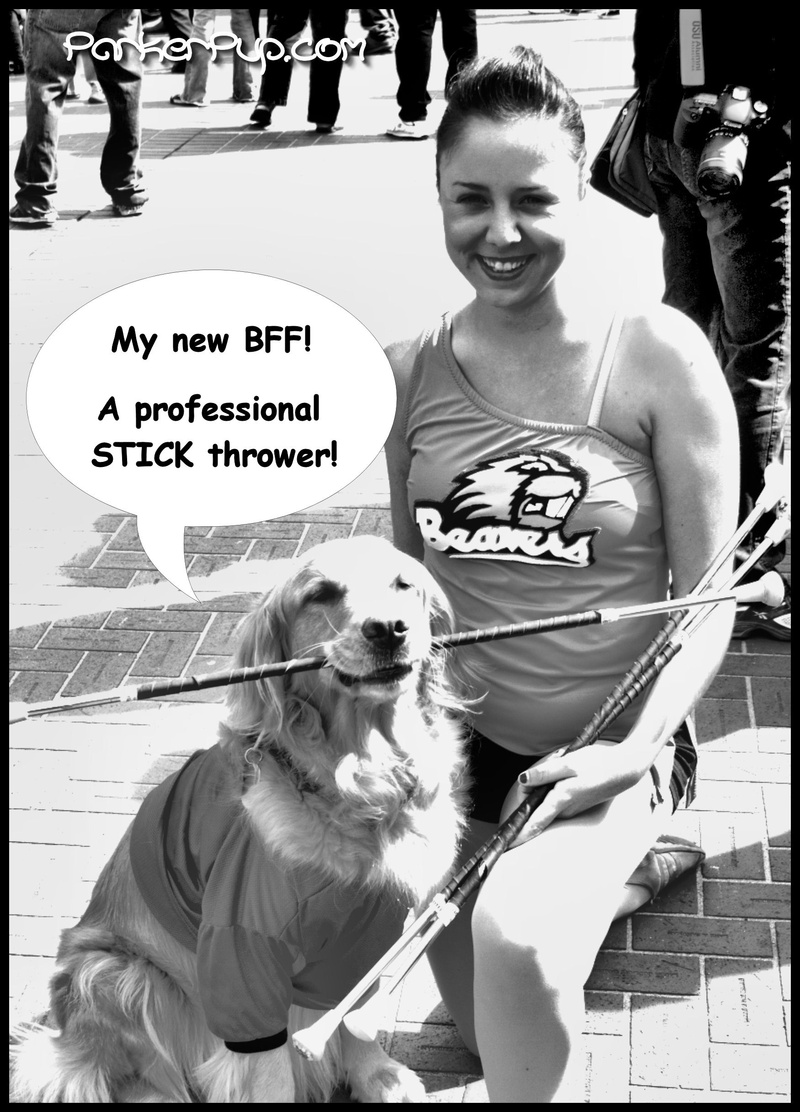 At one point I turned around and saw Benny, himself!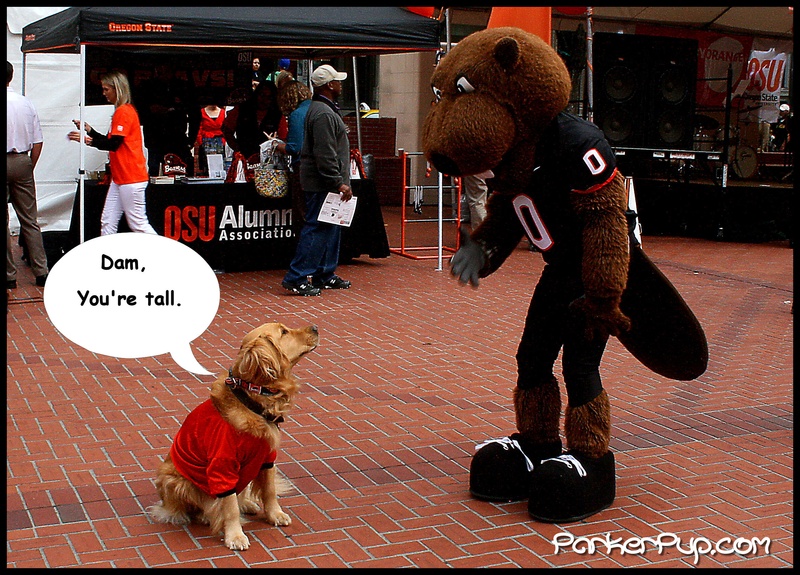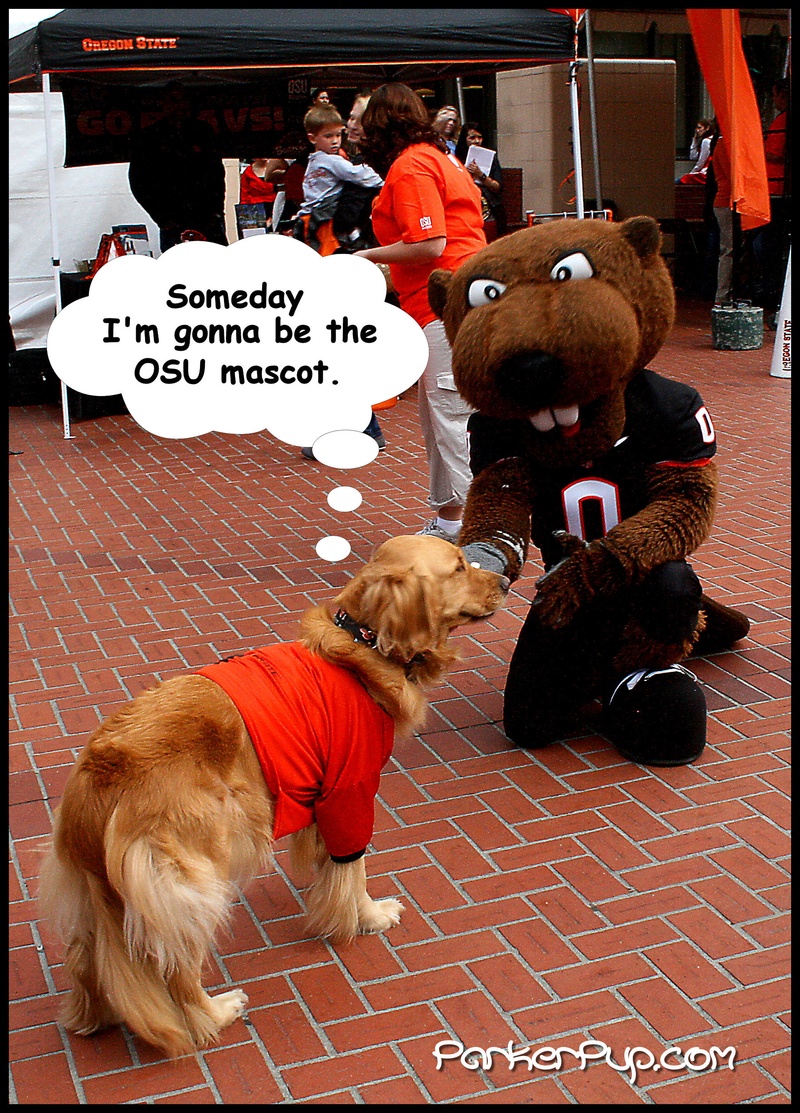 Heehee! Benny hangs out with football players, basketball players and cheerleaders all the time (and the band, too, now that I think about it). I think I would be good at that. See?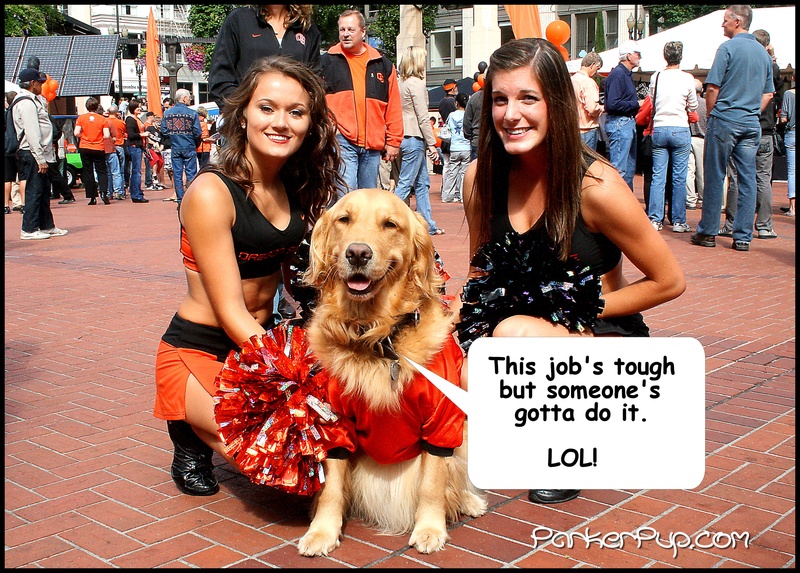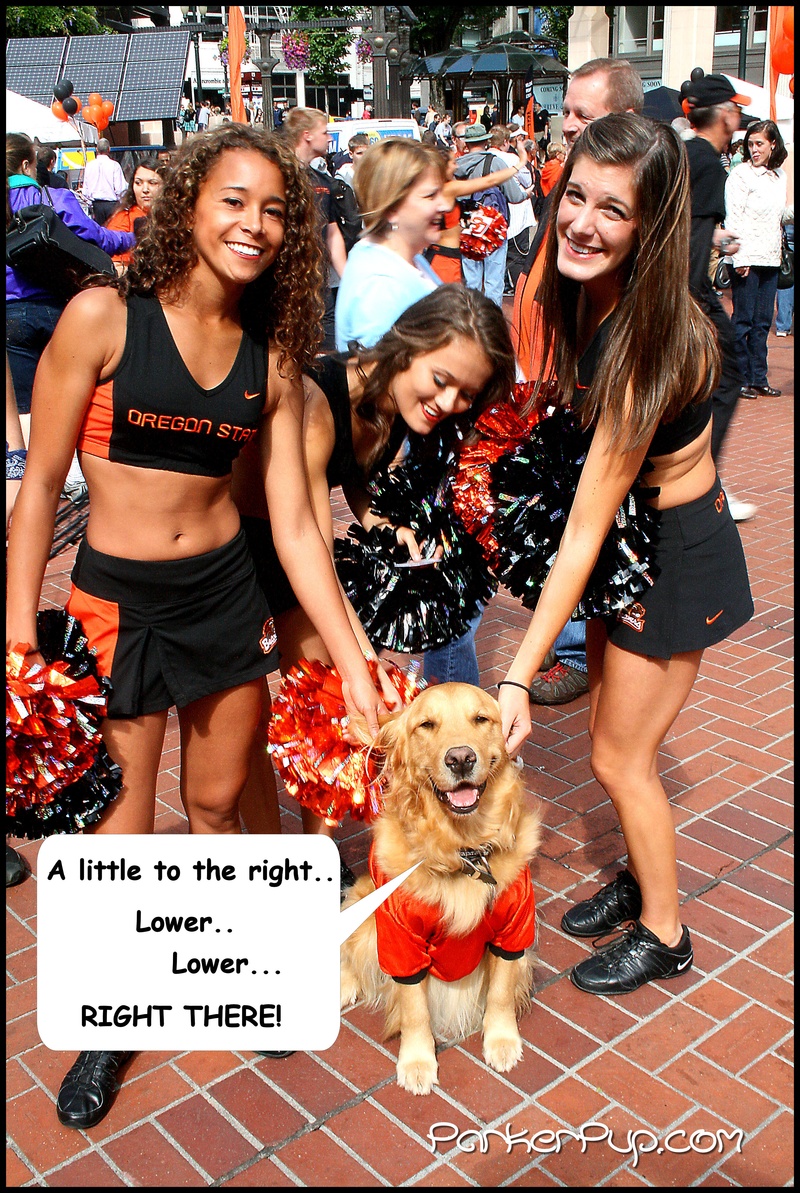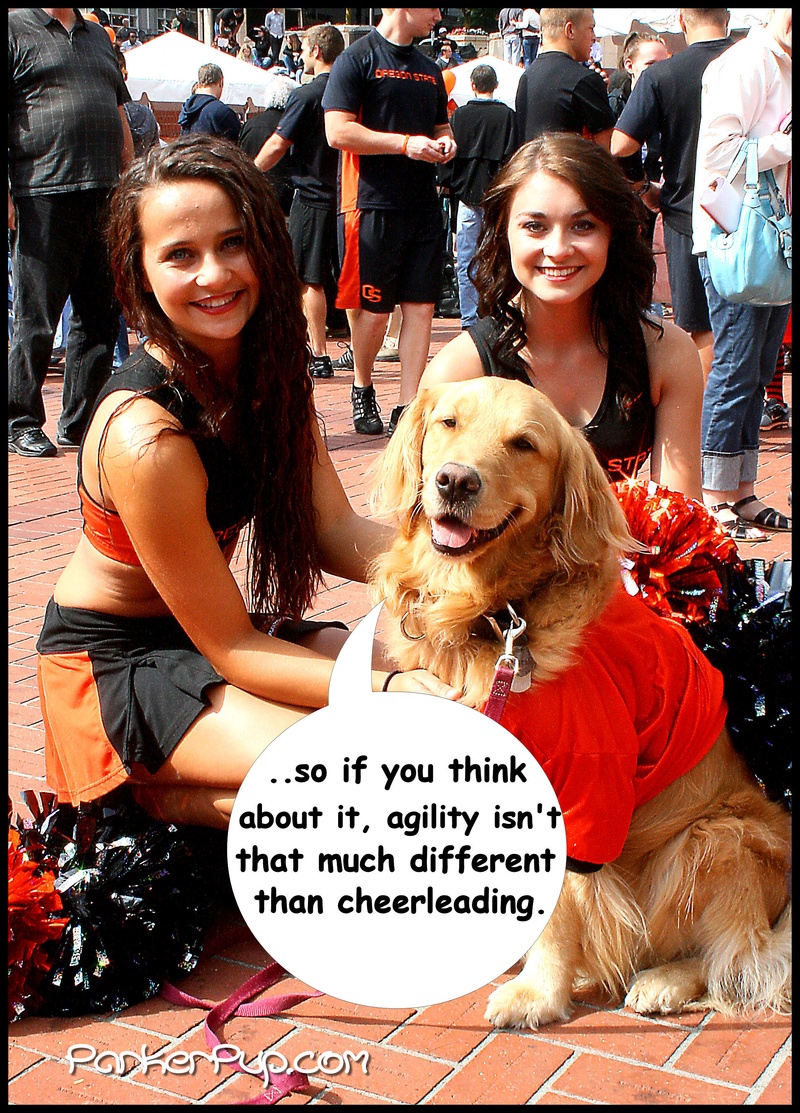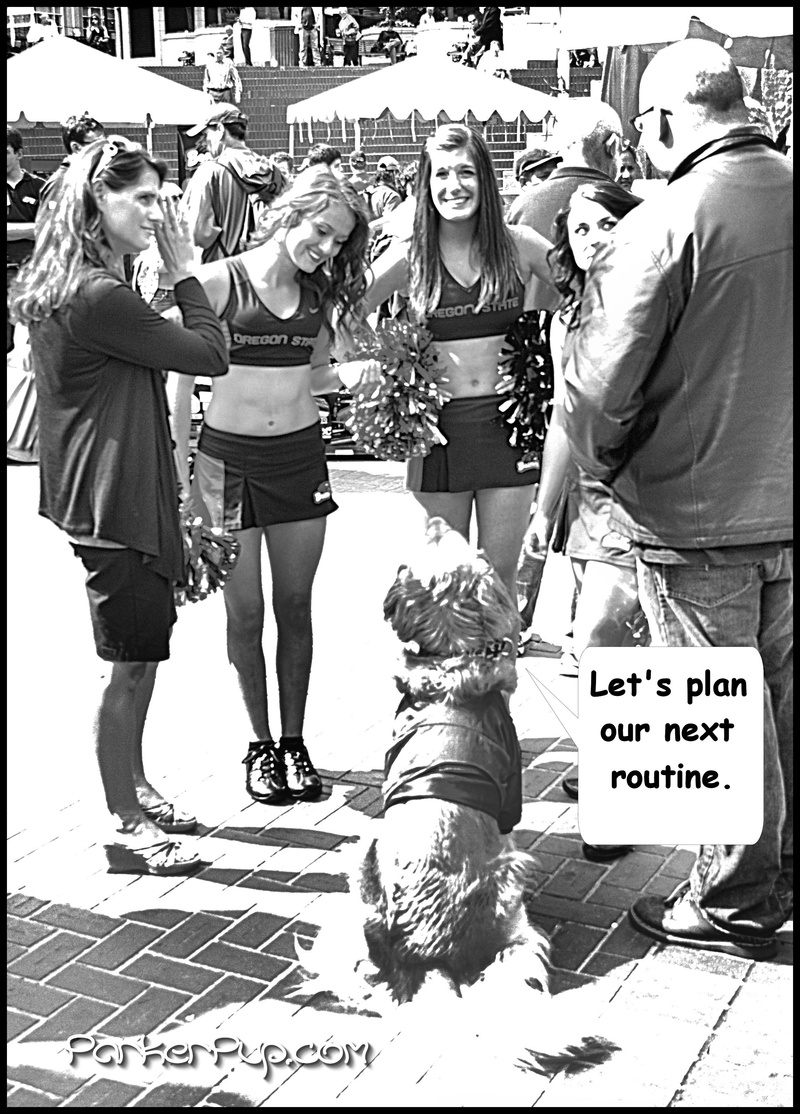 I found one little girl that was younger than me!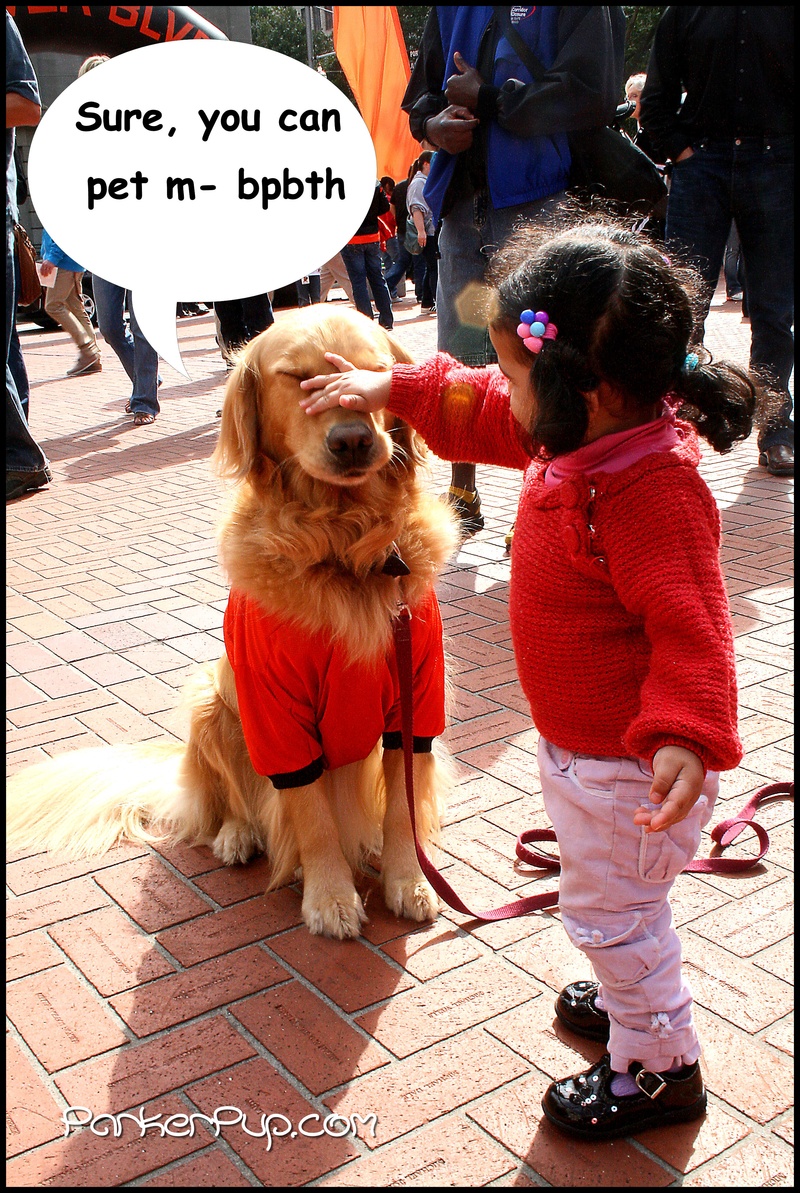 What a fun day!! I love Oregon State. And I had such a great time with all my OSU friends. I am a proud Beaver.. er, dog.
Beaverdog?
I'm a proud furry Beaver-believer!! GO BEAVS!!!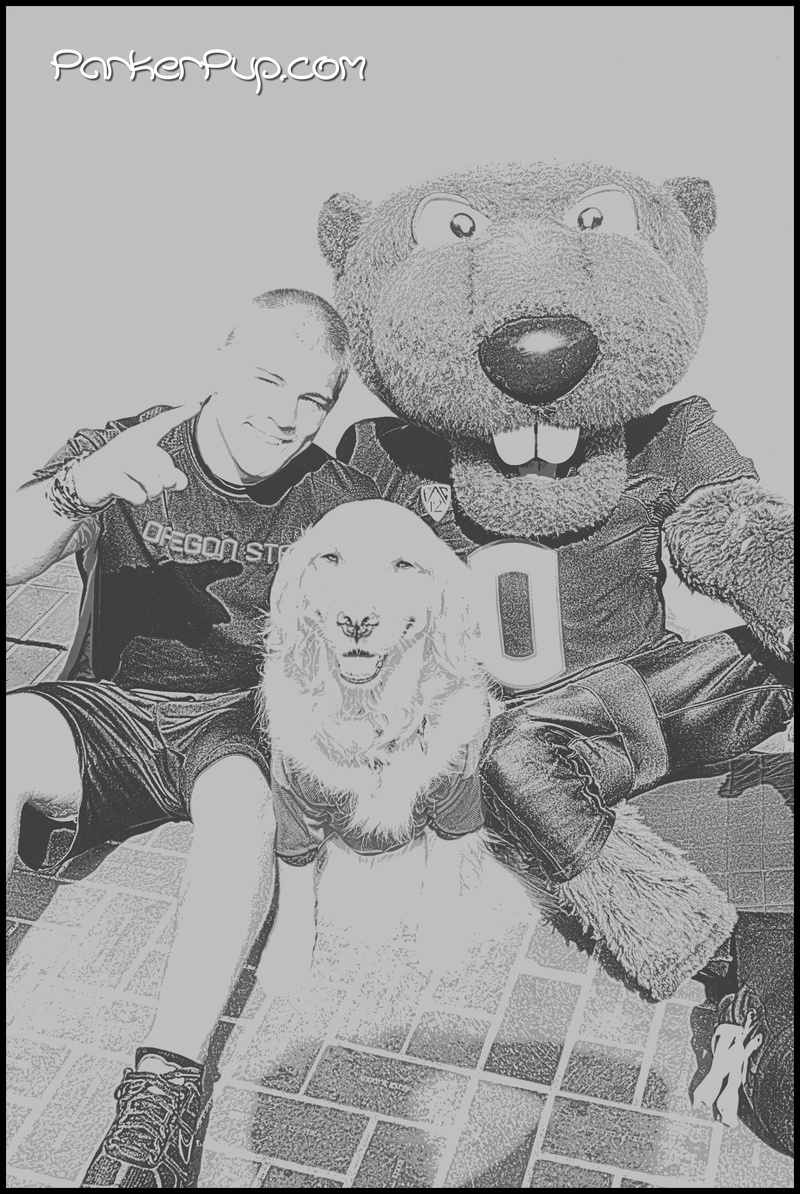 Categories: None