Thanks so much for stopping by!

 

This website documents the exciting life of the precious golden retriever, Parker. 

As you will see, we start from the very beginning, with adorable, innocent puppyhood.

 

From there, you will see Parker grow before your very eyes into a gorgeous, smart, and talented dog. 

   WELCOME TO PARKERPUP.COM!

Professional Dog Model & Actor. Registered Therapy Dog.

Agility competitor. Cancer Advocate. 

 ABOUT PARKER:

The above video showcases a few highlights of this boys beautiful life.

 

"A wonderful place to waste a few minutes... or hours!"

 

Are you a returning visitor?

If you are returning to the site to see updates since your last visit, click on [Updates] on the top of the page.

 

Subscribe to be notified when this site is updated...

or

 

Enjoy your stay, and be sure to stop by & sign the guestbook!
Pup-Pup!

Parker is a 11-1/2 week old golden retriever puppy. He was born on August 26, 2007 to Fannie and Morris of Sunshine Goldens in Dexter, OR. He met his family on November 18 -- dad, mom, daughter... a sister golden doggy named Daisy (3) and a 13 year old golden retriever named Sophie!
So far Parker has a great temperament. He is extremely mellow and loves people. He doesn't mind being held and he loves to be adored. Right now he's a little on the chunky side, but that's okay! He's here just in time for Thanksgiving -- our own little butterball.
We hope to use this site to document his growth and watch how he develops. Please feel free to come by often and see how he's doing! Sign the guestbook. We're very excited to have Parker as a new member of our family!
Video from his first 2 days in his new home!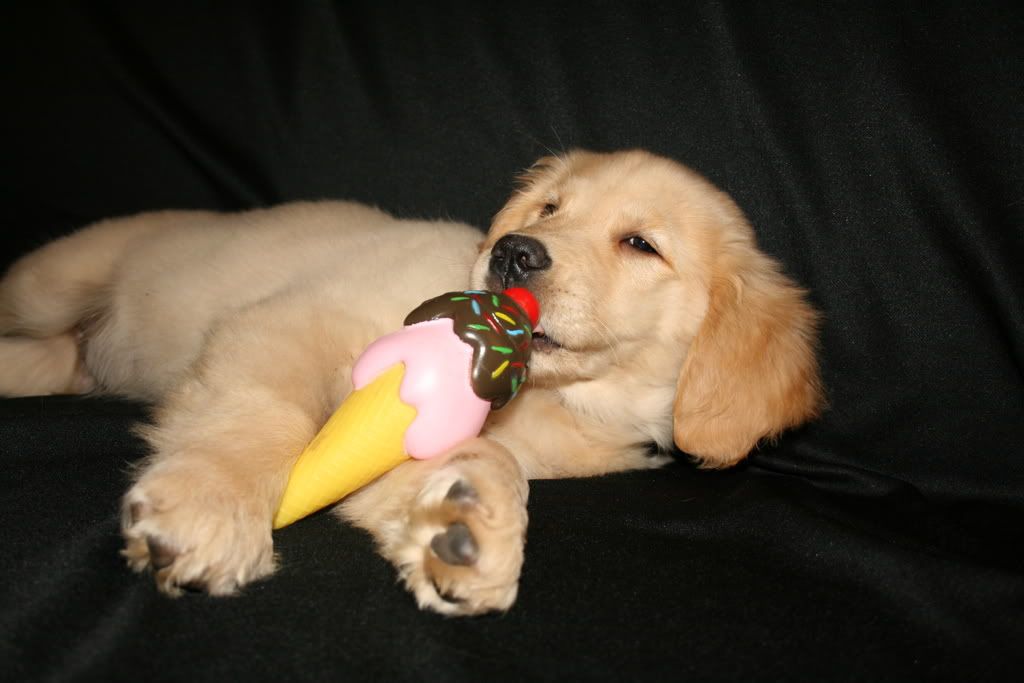 He can be a pretty tired boy -- he is growing, afterall. And okay, maybe we take advantage of these moments to delicately place his toys in certain places -- his favorite pheasant... but look! He woke up for the ice cream! Yum, yum!
Parker discovers moving toys!
Parker discovers moving toys... and then decides he likes the ones that don't talk back! (Unless they are moving toys that are actually golden retrievers named Daisy.)
He also discovered he loves the kitty, Hobbes. Hobbes is the perfect size, and compared to the big golden, Daisy, he has a slight weight advantage! One of his favorite things lately is to chase Hobbes up and down the stairs, behind the tree, and all around the living room. Good thing Hobbes seems to enjoy himself! Parker can be a very silly boy! But he won't stay this small for long. Who is going to break it to the cat?
Parker cheers Orange & Black for the Civil War!
For those who don't live in Oregon, you might not understand what a big deal today is! Today is Civil War day, and that means the two big college football teams go face to face and battle it out to win. OSU Beavers vs UO Ducks. Parker is being raised in a Beaver-friendly household (we still cheer for the Ducks.. but only when they're NOT playing the Beavers)! Today he demonstrated his loyalty to the team: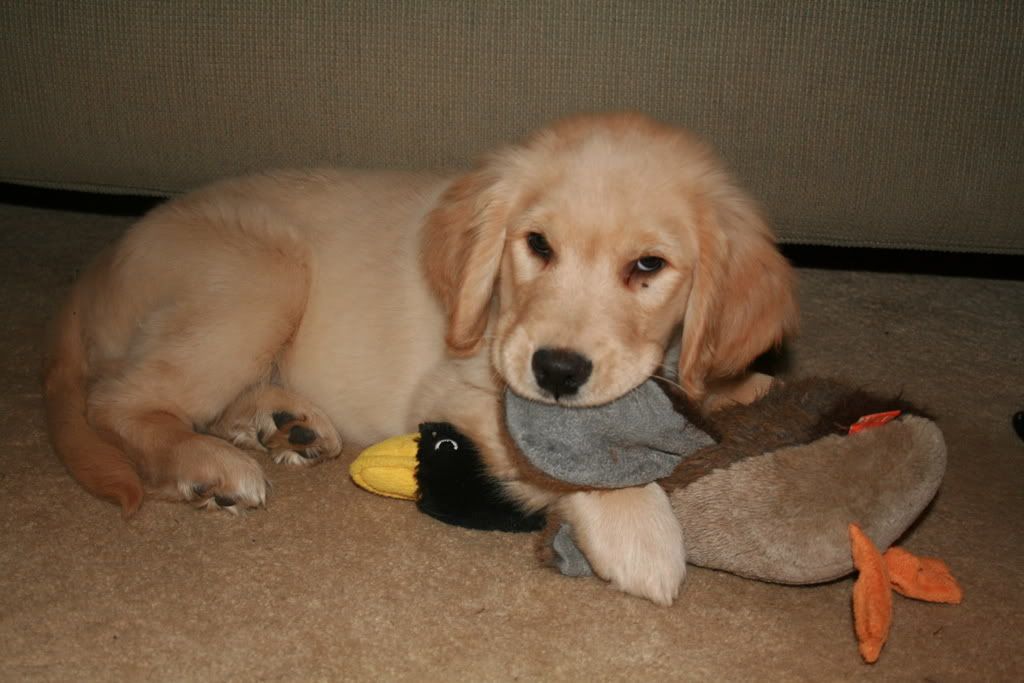 GRAWR GRAWR
GNAW GNAW.
DUCKIES
TASTE GOOD!
Thanks, Parker!
Beavers win 38-31!!
Parker does basic obedience!
Parker is also learning his basic obedience skills. Watch him at 12 and 13 weeks as he does a Sit & Stay with temptation... who WOULDN'T want to eat that cookie? OM NOM NOM!
Well, what kind of family would we be if we couldn't show him off a little bit? Guess we'd better start teaching him some tricks! Here's one he learned at 13 weeks. This is Parker spinning for a treat at 14 weeks old. What a good boy!!


What an exciting day! First day of preschool! Parker met 7 other bouncy puppies in his class, and had a great time socializing with them as well as practicing things like SIT! He seemed to be more interested in checking out this funky new environment rather than playing with the other puppies, but soon decided playtime would be a good idea.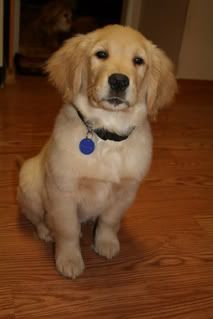 Here's a short video documenting part of his experience!
Guess who just turned 15 weeks old?!
He's growing, growing, growing! And boy, is he smart! He's been officially housebroken for quite some time now; he now barks to let us know he has to go outside. He also barks when the door to his kennel is closed and he to wants to go in for a nap!! Have you ever heard of such a thing? What a good boy! He loves it when he gets to get on Mom & Dad's bed (parents.. they're such softies nowadays). He

always

responds very promptly to his name.
Happy 15 weeks, Parker!

Parker, the Christmas Reindeer
Parker spent an evening being a very good Christmas puppy at church posing with all the little kids to surprise their parents with a cute photo of Parker and the children. Parker was so good! He knew exactly what he had to do.... though he did get a little tired near the end and fell asleep in quite a few laps.
To see more photos from this event, or to find a picture of your child if you participated, click on the Photo section for 16 weeks!
Parker also got a chance to sit in Santa's lap!!! He asked for milkbones and tennis balls. I hope he gets what he wants!!
Parker is featured on WorldWideFido.com's Holiday Spectacular!
Look who is featured on WorldWideFido.com's Holiday Spectacular video!
First experience in the city
If you were a tiny little puppy (okay, maybe tiny isn't the right word anymore!) suddenly exposed to loud cars, crazy people coming at you with AWWs & grabby hands, and strange smells, would you be scared? Parker wasn't! He is such a good little boy. Parker got his first glimpse at the city and he was all festive with his Christmas jingle bells on. He fit in quite well with the holiday lights around the city! What a good puppy!
Merry Christmas! ♥
It's Parker's first Christmas, and here in the rainy Pacific Northwest, we rarely see snow on December 25th -- at least not on the valley floor. But this year was extra special, not only because it was Parker's first experience with decorated trees and presents, but it was also his first experience with SNOW! It actually snowed on Christmas day!!
It's a little hard to see the snow, but it's there! Parker wasn't sure what to think. Maybe he'll get a taste of what a real snowfall is like later this year (or what Oregonians consider "real" anyway).
MERRY CHRISTMAS FROM PARKER!!
(Note to self: Next year just buy him a bow to play with!)
Daily Puppy - December 29, 2007
Parker was the puppy of the day on http://dailypuppy.com/
To view his page, complete with photos and wonderful comments, follow this direct link:
We are so proud of our little baby boy!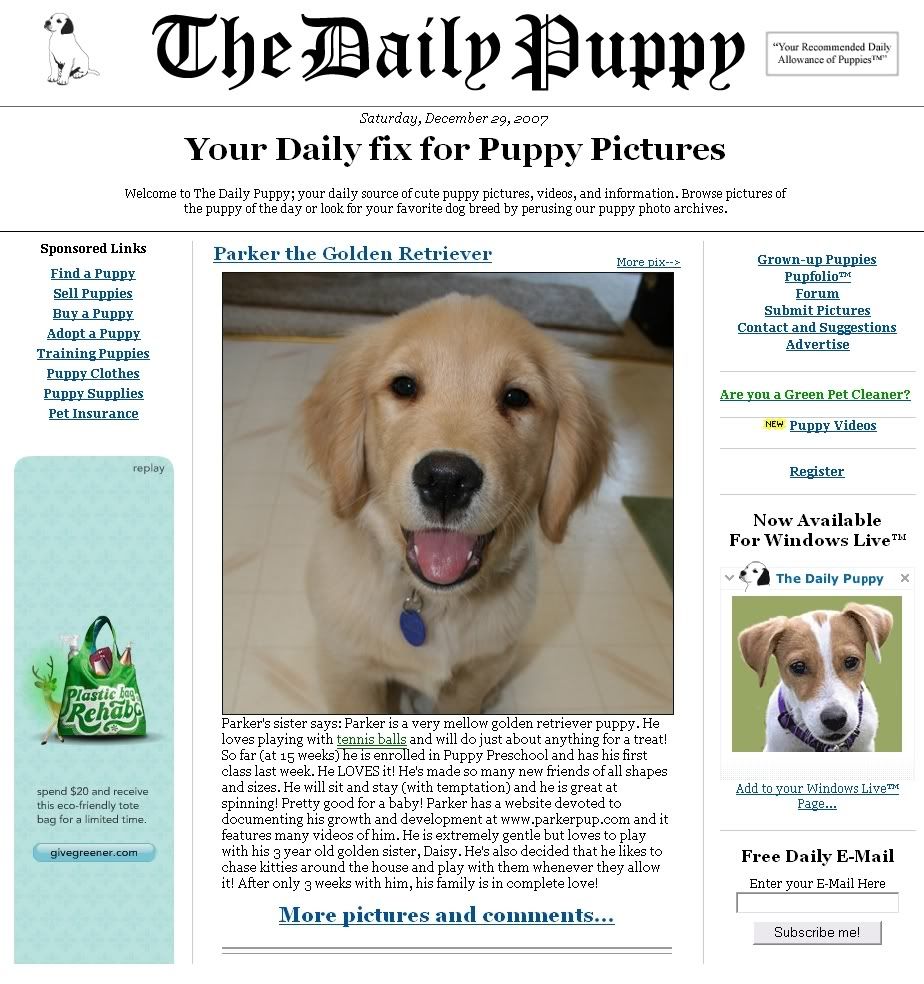 One of Parker's faaavorite things to do is go to Puppy Preschool! Every week they get a good chunk of time to be off leash and play with their classmates. There are puppies of all shapes and sizes -- papillons, newfies, jack russell terriers, weimaraners, GOLDEN RETRIEVERS... you name it! They learn how to interact with each other, learning how to set boundaries as well as read them, and mostly just having fun and being socialized!
It took Parker a few weeks, but he might finally be growing into those big feet of his. For awhile, we thought he would forever trip and fall causing the domino effect with the unsuspecting puppies chasing him. But as you can see in this video, he's starting to get his act together... (however if you pay close attention, you can see him fumble around on his front feet from time to time!)
He also gets shown off a lot! Meaning... we use any excuse to bring him to our workplaces, church, etc. We basically just enjoy spending as much time as possible with the little guy. And could you blame us? Puh-lease!
He's been to the office 3 times so far, and this time we set up a playdate with another puppy who also came in!
We have a GRADUATE in the family!
All good things must come to an end... Parker has sucessfully graduated from his Puppy Preschool! What a fun time we had, watching Parker and all the other puppies learn to succeed and be good little puppy dogs! In his class he learned to respond to his name, sit, down, stay, loose leash walking, leave it, recall, and even some tricks! On graduation night, puppies had a chance to compete for longest sit/stay, longest down/stay, and fastest recall. Parker won 2 of the 3! He won longest sit/stay and longest down/stay... and came in a close 2nd in the fastest recall to Bentley, the very cute & very fast papillon!
 Congratulations to ALL the deserving graduates, January 2008!
A great park in the Portland area is Westmoreland Park. Parker's "dad" grew up playing at this park, and it's become a favorite place for our family ever since.
It's got a duck pond, basketball courts, picnic tables, a wading pool, tennis courts, and lots of play structures! AND a lot of DUCKS! Now.. being a retriever, that is one of Parker's favorite things!! 
Parker was very good about not chasing his webfoot friends. He much preferred watching them from a distance.  He got a chance to meet new people, including a baby in a stroller, a big goldendoodle who wanted to play, as well as experience new things like a play structure! (Which was very amusing to his humans!)
Parker is 5 months old now and so eager to learn and please. Here are a few of his tricks. Some of them he has known for a long time such as spin, shake, crawl.. Here he shows off how to spin, how to twist, round, crawl, shake, and pose -- this one is still very new and one dogs need to build up muscles for in order to hold the pose. He has the idea down though so far.. it's just a matter of building up those muscles, holding the pose, and not falling over backwards (which he has done in class before -- it's hilarious!!)
These are just a few of what he knows so far! Enjoy!
We entered one of Parker's videos "Coming Home!" in a contest on World Wide Fido, which is a really neat place for dog fanciers to visit since it showcases cute, hilarious, and creative videos of dogs of all shapes and sizes. We never thought he'd win, but HE DID! He won the category of "Cutest Dog" for December, 2007. (Really, though.. he is pretty cute!) Prizes include an engraved dog bowl, a tag for his collar that says Cutest Dog, a tennis ball, a World Wide Fido tee shirt, a lanyard, and a gift certificate for a free collar from Mon Ami! Thanks to everyone who voted for Parker! If you haven't checked out http://www.worldwidefido.com/ yet, you might want to! It's the best way to get your daily smile!

Parker's just reached 5 months old... Click on the above link to go directly to Page 2 and continue watching him grow into a handsome adult!
See you there!
You are visitor number:
to ParkerPup.com!
Thanks for stopping by to see how Parker is doing!
We would be so happy to hear from you. Please sign the guestbook!