We are blessed to have dogs that never show their teeth; who sit outside looking regal, calm, content; who are well-mannered; who watch where they're going at all times. Our dogs, if we do say so ourselves, are quite possibly angels sent from heaven, all wrapped up in fuzzy gold wrapping paper. They never bite. Never snarl. Never--
I forget what I was talking about...
Have you ever met a dog that LIKES to dress up??? Well, maybe not so much the glasses!
This year we took part in the Doggie Dash, which is a 2 mile walk to benefit animals at the Oregon Humane Society. It was the first time we've ever participated, and we are so glad we did! Over $150,000 was raised for the animals at OHS!! There were around 2,500 Dashers plus almost as many dogs! After the Dash, everyone was able to enjoy a pancake breakfast, canine contests, and shop at over two dozen vendor booths. And DOGS, DOGS, EVERYWHERE DOGS! We were in heaven (should we mention, we had to pull out Parker's favorite tennis ball to get him excited??? He just isn't fazed by other dogs..)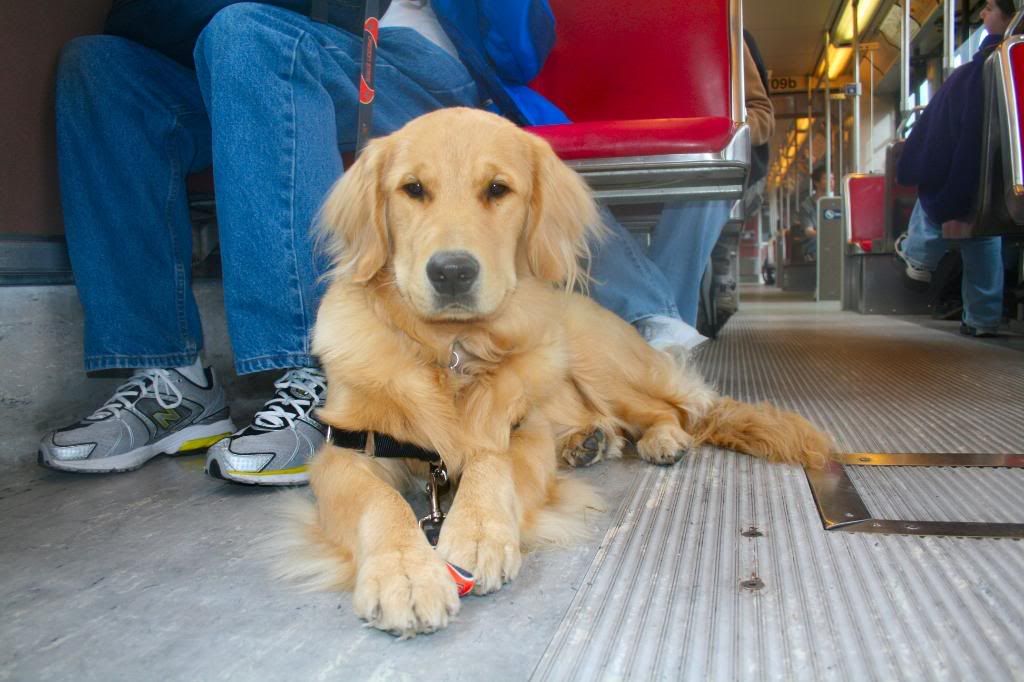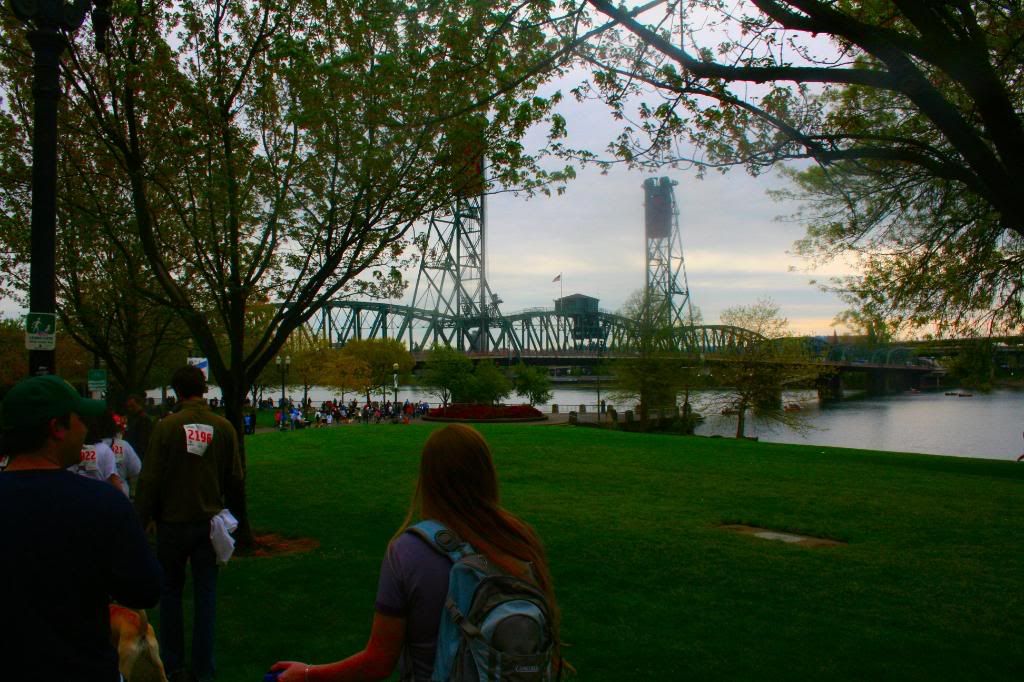 Parker was such a good dog during the walk! He is an excellent doggy on leash, and many people commented on how well-behaved he was for an 8-month old puppy.
 He only barked at ONE dog... which is SO out of character of him. But that deserves an explanation so be sure to check out the Doggie Dash link below to read about it and to see pictures.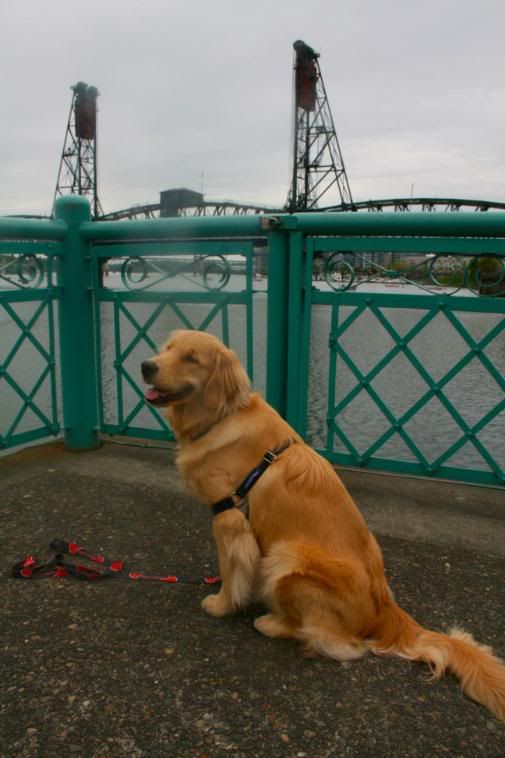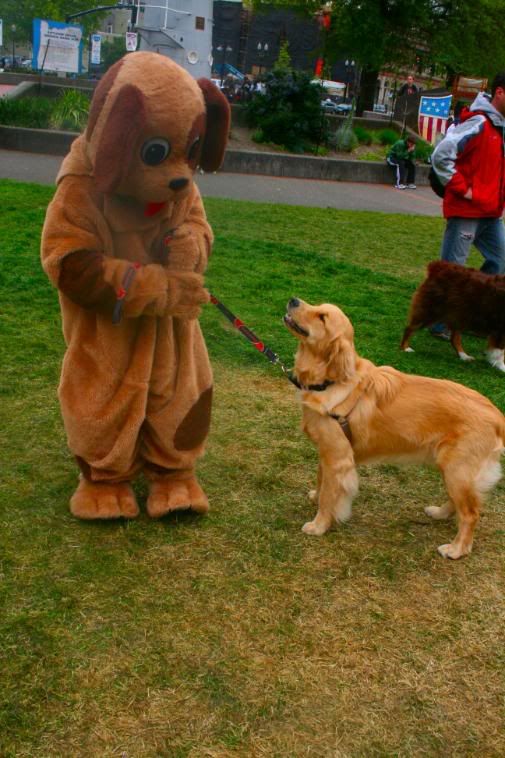 To see the entire account of Parker's experience at the Doggie Dash, click on The Dog Blog!
Here's a quick little video of Parker's "speak" trick. Hope you enjoy!
Parker is getting very close to 10 months old and these are some of the kids who have watched him grow up! Our doggies are very lucky to have such nice friends!
YAY! Parker and his website were also reviewed in The Oregonian, by a columnist named Deb Wood who reviews all things pets around Portland, Oregon! To view it, click here. It was pretty neat because just a couple days before she reviewed ParkerPup.com, she reviewed our training instructor's new book, We Can't Stay Together For The Dogs. Check it out!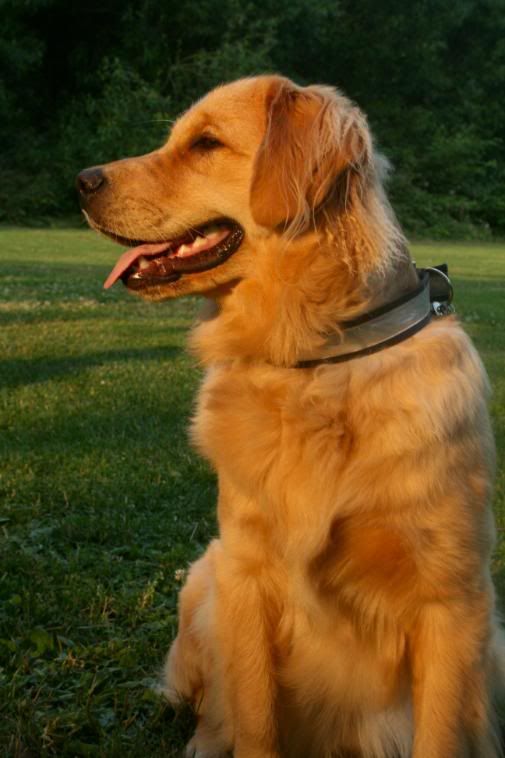 We haven't really had much of a chance to show off Parker's roll over trick. We took him to some empty basketball courts in the neighborhood in order to work on his loose leash walking skills and decided to film his trick. Unfortunately we only had an 8 MB memory card in the camera so we only got 2 short clips of this trick, as seen below. Enjoy!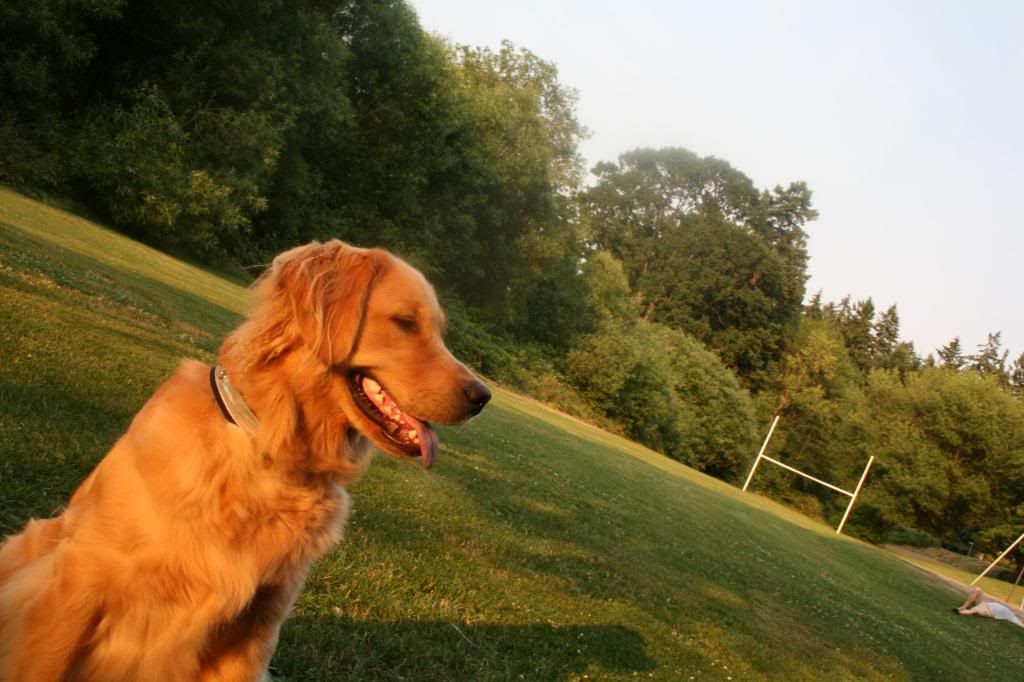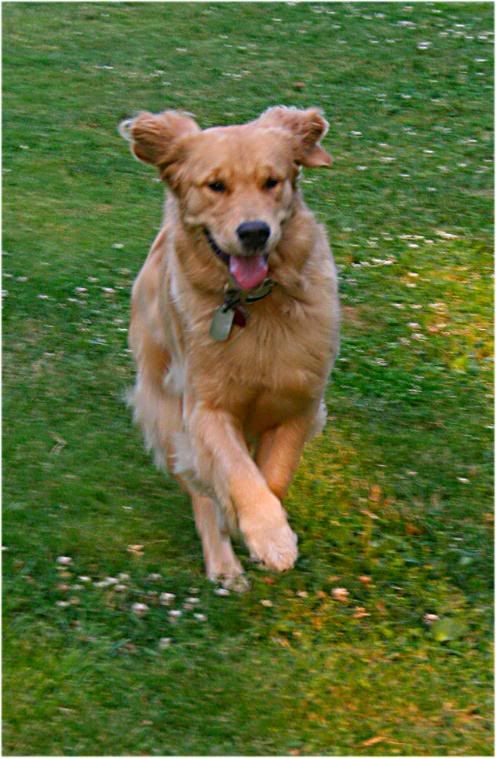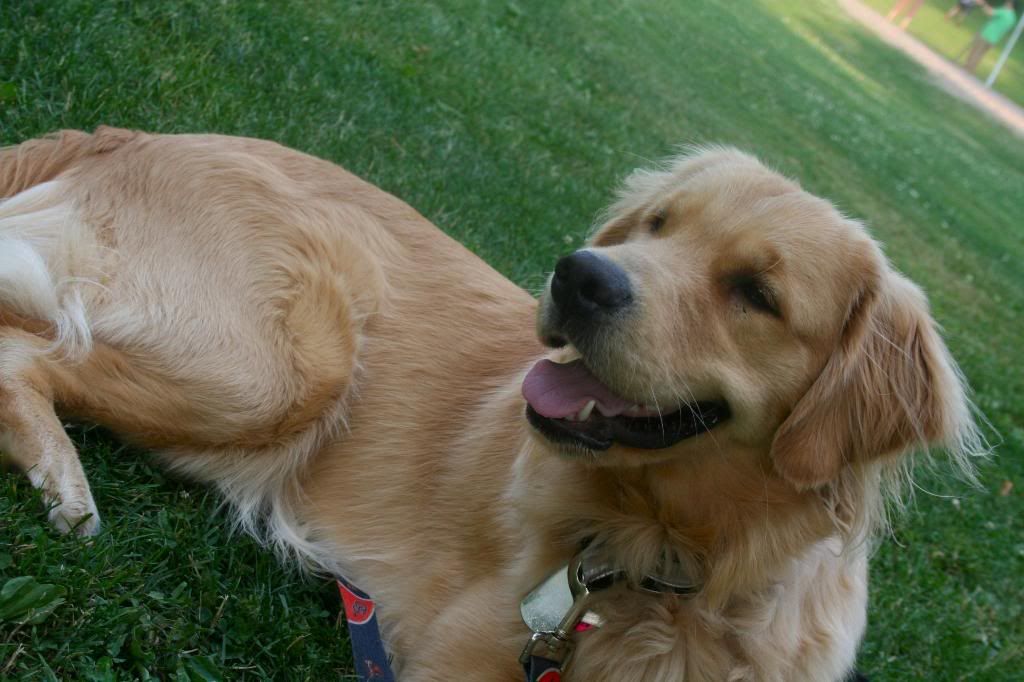 Parker's hits the big screen in Times Square!
On June 19, 2008 Parker had his moment of fame in New York in TIMES SQUARE! Here he is, and there are a few of his fans down on the sidewalk! If you squint, you can see them!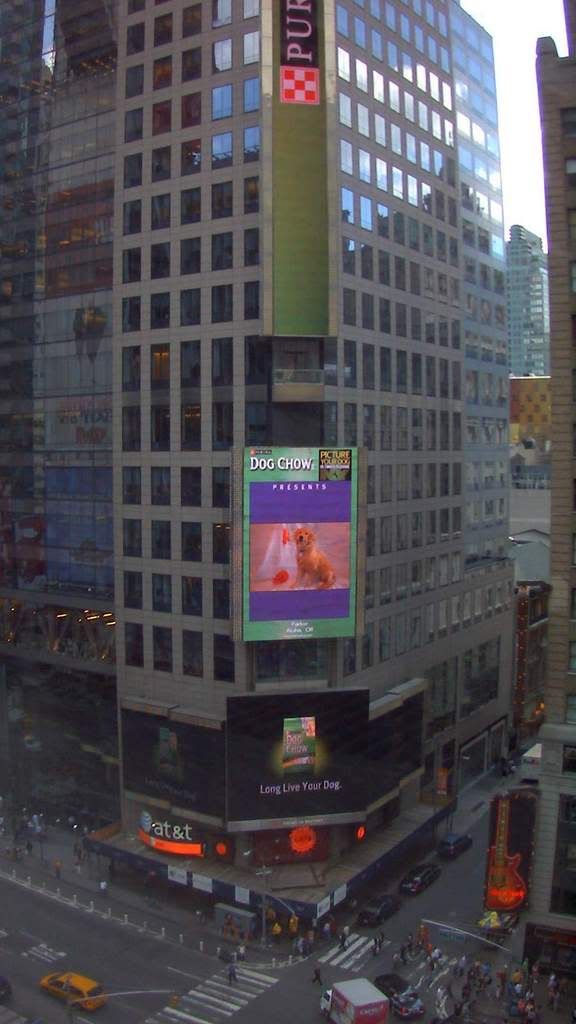 A Canine Birthday Celebration!
 

This year, Parker helped Daisy celebrate her 4th birthday!

 To see pictures and a silly little video, click on The Dog Blog.

 

Happy Birthday, Miss Daisy!

 
| | |
| --- | --- |
| What a good sport to go along with silly dress-up games. But hey, he got featured on this website out of the deal! Not too shabby. | |
Sunshine Golden Retriever Reunion
Parker, Parker's Dad and Parker's sister went to Dexter for Parker's family reunion this year! Every year our breeder puts on a reunion for all the Sunshine doggies to get together, eat, play games and mingle! We saw goldens of all ages, and some of them looked a lot like Parker! Parker did meet one special friend named Jake, who lives in Portland! Jake is around the same age and just adorable! Debbie, Parker's breeder, saw Parker and thought he looked amazing (duh!) and even joked that he could be a show dog! Aww..  We are pretty happy with him!
Select pictures from this event are posted in the 11 month old photo section. To view all the pictures in our Snapfish album, click here.
After that full day of fun, we stopped at Dairy Queen and got Parker a kiddie cone. Had to beat the heat somehow, right!?
Yep, that's right! Parker took the Canine Good Citizen (CGC) test and he passed!! The CGC test is put on by the American Kennel Club and it serves to reward dogs who have good manners at home and in the community. During the test, dogs must exhibit each of the following:

Test 1: Accepting a friendly stranger

Test 2: Sitting politely for petting

Test 3: Appearance and grooming

Test 4: Out for a walk (walking on a loose lead)

Test 5: Walking through a crowd

Test 6: Sit and down on command and staying in place

Test 7: Coming when called

Test 8: Reaction to another dog

Test 9: Reaction to distraction

Test 10: Supervised separation

For more information, visit AKC's CGC Program. 

He's only 11 months, so it's pretty great how well he did! He's not perfect. But he did a great job and he passed!

YAY, PARKER!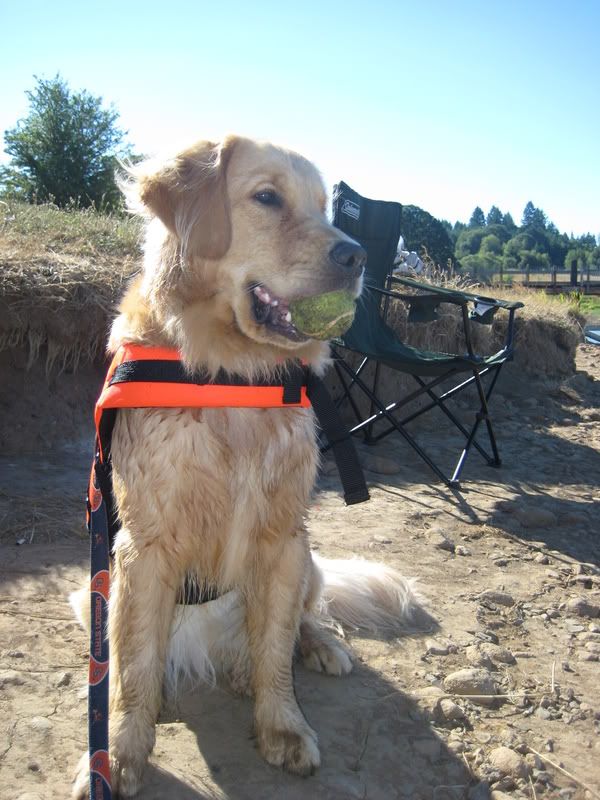 Parker went for his FIRST SWIM EVER! We took Parker and Daisy to Hagg Lake to go kayaking and to introduce Parker to the water. He was a little hesitant, but he did jump in at one point! He really only wanted to go in because his friend Daisy was out there having fun without him! THE NERVE! (And maybe also because we were throwing tennis balls out there, too.. heh heh) With time, he should get more used to the scary H2O! Here's a quick video of Parker and Daisy out for a swim.
We also gave Parker his first experience with the ocean! This time, the water was waaay more fun for him and he was able to enjoy it (despite the cold weather, dark clouds, and booming thunder while he waded through the waves
 )
ONE YEAR OLD!! It's time to party!
 

It finally happened... Parker is ONE YEAR OLD! August 26, 2008. We celebrated with a few of Parker's friends. We had pup-cakes (safe for dogs), homemade dog treats, presents, games, and a grand ol' time!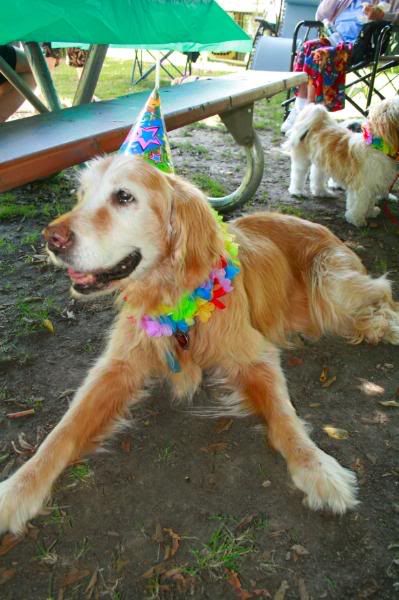 Happy Birthday, sweet Parker!
Birthday Messages from his friends on The Gold Post: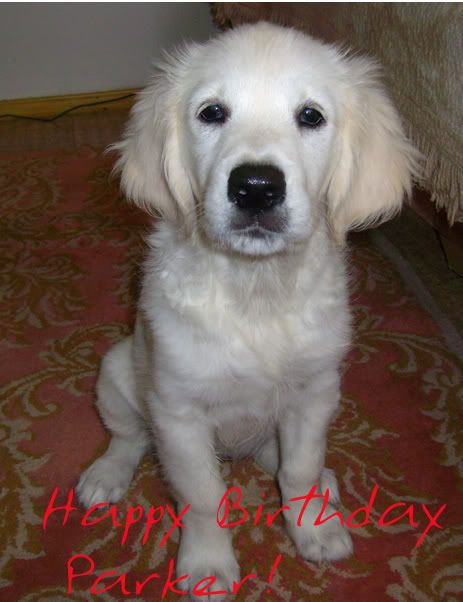 Emma & Dino 
 Rocky, Ti & Augie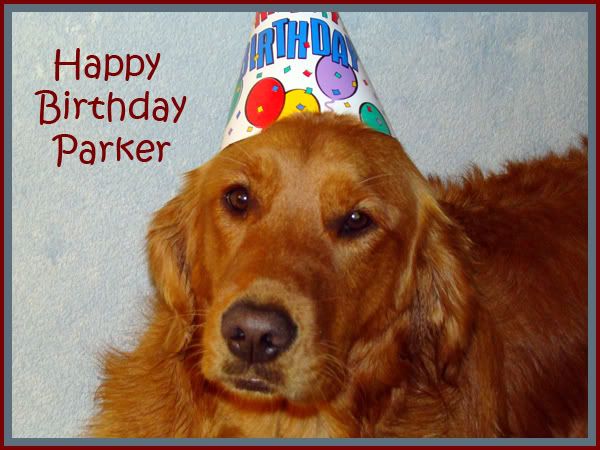 And the lovely Miss Molly.
A Tribute to Parker's 1st Year
A friend of ours was nice enough to make this adorable collage/music video for Parker's 1st year! Watch out, the song's very catchy! Thanks, Molly!
To quote an old Carpenters song:

All things must come to an end. Year one? CHECK! Now let's run with the BIG DOGS, shall we?
Click here for Page 4!